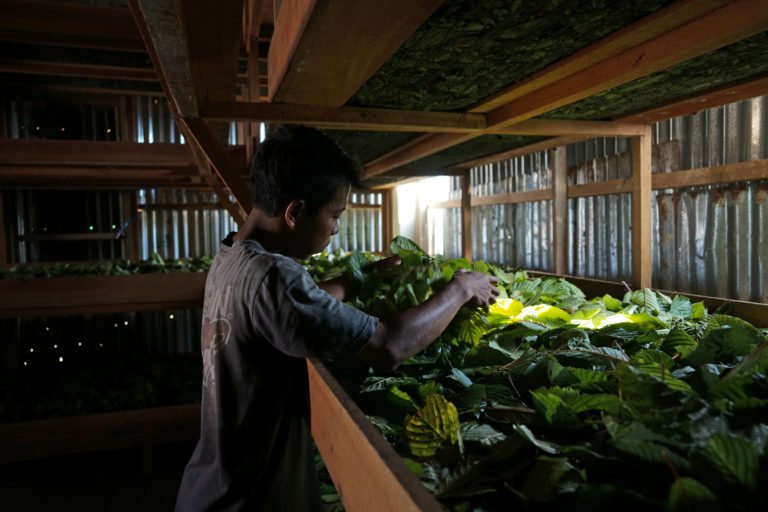 What is kratom? Is it a drug? Is it an herbal supplement, or is it a tea?
In this article we will explain why 
kratom
 could be classified as any of the three, but why we at Crisp 
Kratom
 choose to represent and approach it as a 
tea
.
The definition of 
drug
 is "a medicine or other substance which has a physiological effect when ingested or otherwise introduced into the body." 
Kratom
 certainly does have a physiological effect when ingested or otherwise introduced. It could be classified as a 
drug
, however, it is not in the best interests of those who want 
kratom
 to remain legal to refer to it as a 
drug
? Why? Because labeling a substance as a 
drug
 warrants the government to intervene and schedule it. Many plants with medicinal potential have been demonized and controlled with the 
drug
 label. We frequently see people arguing online, declaring that 
kratom
 is a 
drug
. Why argue semantics when it serves no benefit to the community? With that said, it is important that we are up front about the potential risks and safety hazards that can come about from using
kratom
.
According to the FDA, a dietary supplement is a product intended for ingestion that, among other requirements, contains a "dietary ingredient" intended to supplement the diet. The FDA does consider 
kratom
 a "new dietary ingredient". So according to the FDA, 
kratom
 would fall in the dietary supplement category. However, as we all know, the FDA has worked to make 
kratom
 illegal for years. They have actually made efforts to deregulate 
kratom
to prevent it from becoming mainstream. That's why it would serve the
kratom
 industry and community well to challenge the FDA's ruling, and represent 
kratom
 as a food product / 
tea
.
For one, food products have a lower barrier to entry for most business owners. All you need is a commercial kitchen and food permit to be properly licensed in your state. A dietary supplement facility is far less attainable.
Second, 
kratom
has been consumed safely in Southeast Asia for hundreds of years. There is an FDA term called G.R.A.S. which stands for "Generally recognized as safe". Since
kratom
has been consumed safely for hundreds of years, it does qualify for GRAS and therefore qualifies as a food product.
Most vendors in the 
kratom
 industry approach 
kratom
 as if it is a 
drug
 or a supplement. However, at Crisp 
Kratom
, we choose to approach it as a 
tea
. Many years ago, we discovered that the best batches of 
kratom
 had a sweet aroma to them. These batches were fresher and on average had higher potency. How did this sweet smell come about?
What we learned over time was that the 
kratom
leaf has sweet and pleasant flavors that are typically lost due to poor processing methods, and all that was left was bitterness. We discovered that most leaves were sun dried, which not only cooked the sweet flavors out of the leaf, but also degraded the alkaloids. With indoor drying, the flavor, freshness, and potency remained more intact.
The aim of 
tea
processing is to remove the bitter flavors present in the leaf and bring out the sweetness. All along our natural progression in striving for the best quality fell right in line with tea processing. 
Most 
kratom
 consumers believe that the potency of their 
kratom
is entirely in the leaves. Don't get me wrong, the leaves matter. But in the
kratom
industry, there is little to no selectiveness in the harvesting process. Giant dump trucks are filled with leaves and sold on the market to big processors who will turn it into powder. 
Many importers #1 sales pitch is that their leaves are harvested from old trees. In most cases, this is not the case. In reality, most importers really have no control over the leaves harvested. This is why currently, processing methods are king.
A common technique in green 
tea
processing is to halt oxidation. Oxidation is like when you bite into an apple and it begins to turn brown on the inside. So stopping oxidation using temperatures of 150 degrees F or greater is a technique used in various tea industries. In the matcha industry, they use steam to halt oxidation. We believe this process helps trap many of the alkaloids and chemicals that would otherwise die off. It also helps retain the green color in the leaves. Since we specialize in super green, we are proud to admit that we work with suppliers who have machinery to stop oxidation and retain a super green, super potent product. 
At Crisp, we specialize in super green 
kratom
 only, because we feel it is the most potent, cleanest, and highest grade product. We approach 
kratom
 not as a 
drug
 or supplement, but as a 
tea
, because we believe that the future of 
kratom
 lies in the age old, time tested 
tea
 processing techniques.
Make sure to read the truth about strains to further understand why we only source super green 
kratom
, and how red and white strains can actually enable lower standards amongst farmers and manufacturers.